These games are a great way to support a local charity while supporting your team's growth. Teams get all the benefits of bonding through play with the bonus of earning money or supplies for donation.
After a great holiday weekend celebrating independence, we're even more focused on our year-round mission of celebrating interdependence. Our belief that we are all interconnected and our drive to give back to our community inspired us to offer Giving Back Games.
Giving Back with Backpacks
In our customizable Giving Back with Backpacks Scavenger Hunt, teams gather donations for charity in backpacks we provide. Most non-profits can stretch donation dollars farther than in-kind, so we created a delightful way to gather money for charity. After completing a challenge, teams receive adorable stuffed animals with $$ etched on their collars. If you prefer to make an in-kind donation, teams can collect school supplies, toiletries or toys, for example. In this game's comedy show finale, we celebrate the winners and your team's earnings for charity. You choose the charity, or we can recommend one.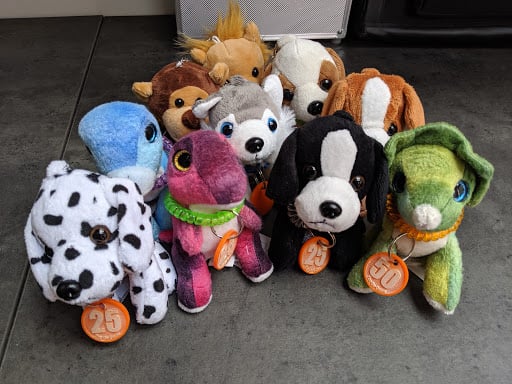 Build a Bike
Get hands-on and Build A Bike for charity. This game combines play, teamwork, creativity, coordination, mechanics, and giving back. As teams complete challenges, they earn their bike parts. After the bikes are assembled, out come decorations and our safety inspectors. The finale is a victory lap through our obstacle course. The result is a bunch of beautifully decorated bikes for the children's organization of your choice (or we can recommend one!)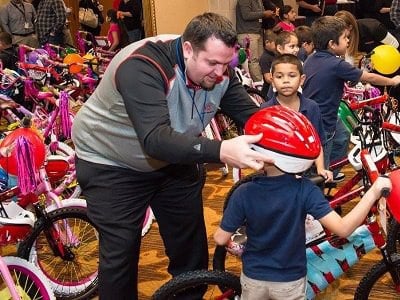 Give Back Game Show
Our indoor Game Show challenges teams with rounds of customizable trivia and traditional head-to-head TV game show challenges. Your Game Show Host will get everyone laughing as you complete absurd rounds of challenges, and they will educate your participants about the recipient charity. Each point earned represents a donation to the charity of your choice. The donation total and winning team will be announced at the finale.