The Classic Go Game transformers into 1001 other themed games! Is yours on the list? Need some inspiration? Here are some ideas from The Go Game Brainstorm Headquarters. We've been running scavenger hunts around the globe for 18 years, and no theme is too big or too small for us to run with. So let's think outside the box (actually, let's ditch the box entirely) and bring your idea to life so you can play as big as you think.
Famous Musicians From your city: Hip hop (or bebop), the fun don't stop. All challenges revolve around tunes so your group can learn about the music scene in your city.
80's: Strap on your fanny packs and neon spandex and go back in time for a totally tubular scavenger hunt. You bring the competition, we'll bring the Def Leppard background music.
Pro-Sports: Is your team full of athletes or fans? We'll throw in sports trivia, athletic head-to-heads challenges, and actors in ref costumes blowing the whistle on all your fouls.
Circus: Bring in the clowns...and jugglers. The greatest show on earth will inspire the greatest game on earth, elephants not included.
All-Holiday Mashup: From Mardi Gras to Arbor Day to Independence Day to St. Patrick's Day, your game will include festive feuds and out-of-season silliness. Or keep it traditional, pick your favorite one and go all in.
Zombies: Let's play like it's The Night of the Living Dead in a just in time for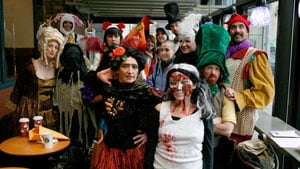 Halloween game that will bring your Zombie Apocalypse dreams to life. Your group will be "creepy crawling" all over town.
Gold Rush: A classic California story updated for your game. "Mine" for gold by completing challenges and solving clues across your gamezone.
Sustainability: Make Captain Planet proud. See green while competing in a game where you'll leave no trace (except for your trail of glory.)
City Pride: Celebrate your city by planning a game that's all about how great it is. We'll include local trivia, slang, heroes, and more. Imagine: a cheesesteak race in Philly, a Frank Sinatra sing-off in NYC, or a craft cocktail-making challenge in New Orleans.
Have a totally different thought for a theme? Let's make it happen. Send us your strangest, most creative ideas and we'll collaborate to produce the game of your dreams.

Foodie:
Hungry for competition? Race around a gamezone stopping to sample local bites, compete in food-tasting challenges, culinary trivia, and more.